Danial and Atoosa


Danial hired the Caricature Pros at caricaturesnmore.com to illustrate a special moment he shared with his girlfriend, Atoosa. He was so thrilled with the work, we just had to share it with you.

"John, I absolutely LOVE IT!
I'm very happy with this final result and it looks even better than before, and it already looked great before.
Thank you for all you've done and I wish that you will always continue doing what you are doing because you are absolutely amazing at it."
---
The Inflatables Family Business Caricature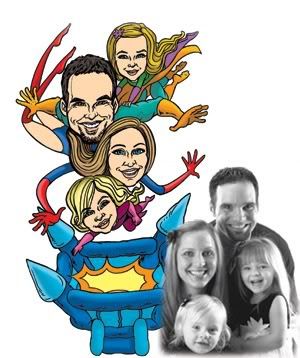 The Inflatables bounce house business decided to have the Caricature Pros at Caricatures N' More design a caricature for their website and other promotions.
Check out what she thought of our work.

"Hi, John. This looks amazing, I absolutely love it! I couldn't have imagined it looking any better than this, I am so impressed if you couldn't tell. Yay! :)
Thank you so much. Brooke"

...and a response from a satisfied customer doesn't get any better than that...thanks Brooke!

Thrilled with your experience too? Your satisfaction is important to us, we'd love to hear.


---
All submissions are subject to approval by web administrator.